Automation Control Company, Inc.
"Cellwatch has helped us improve UPS reliability and uptime for our customers." --Ray Waguespack, ACC Outside Sales
Situation
Automation Control Company, Inc. (ACC) provides engineered products and systems to the industrial, marine and utility markets. Founded in Baton Rouge, Louisiana, ACC has grown its service area to include customers throughout the Caribbean, as well as the oil and gas industry in the Middle East. ACC has grown its business with a relentless focus on customer service and is constantly seeking new technology to benefit its customers.
Strategy
Most ACC customers maintain critical industrial processes or commercial applications that require uninterrupted electrical power, and use uninterruptible power supply (UPS) systems for protection. As a specialist in power distribution, ACC recognized that new standby battery monitoring technology could help its customers improve UPS reliability.
Results
By deploying Cellwatch battery monitoring systems, ACC customers are now enjoying improved UPS uptime by detecting and replacing back‐up batteries before they fail. In addition to enhanced UPS reliability, customers are cutting maintenance costs and extending the useful life of their batteries.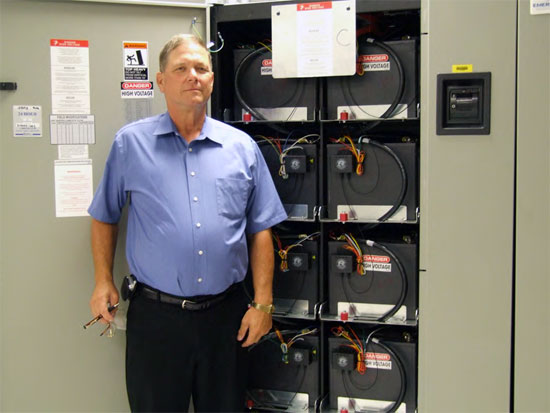 Comments
"We now have several customers using Cellwatch battery monitoring systems on UPS systems from a variety of manufacturers. Customers tell me their peace of mind is greatly improved, now that they know their standby batteries are at full strength in case of a power failure. We have demonstrated the ability of the Cellwatch system to improve uptime. Batteries can fail in a matter of days and because Cellwatch tests every day we can catch a failing battery before it causes a problem.
"Cellwatch can monitor batteries daily because, in my opinion, they have the best technology on the market. Other load testing systems draw enough power from a battery to actually partially destroy the battery. Repeated testing with such a system can reduce battery life. But the Cellwatch technology places a very light load on the battery, so that testing can be done every day without causing any perceptible harm.
"In addition to improved UPS uptime, our customers can now save money on maintenance. Quarterly maintenance can be replaced by annual maintenance. And, instead of bulk replacement of batteries after two or three years, customers safely keep batteries much longer, replacing only the ones that are starting to fail.
"If you have a UPS system, it means that uninterrupted power is important to your operation‐‐‐probably critically important. It only stands to reason that you should want to improve the reliability of that UPS by trying to make sure the standby batteries will function at full strength when needed. In other words, if you've got a UPS system you should also have a battery monitoring system. In fact, if you have generators, electrical substations or telecommunications equipment that require batteries, you should be constantly monitoring those batteries to make sure they will be ready when you need them."
-- Ray Waguespack